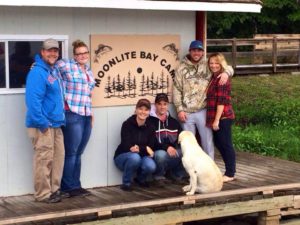 Moonlite Bay Resort is an island resort with all the comforts of home offering both American Plan and housekeeping plans. We are unique in having only 4 guest cabins in total. This very small, or as we like to say "Boutique" size, means that each of our guests receives great customer care. In addition to fishing, we offer bird hunting, canoes and allow pets.
Moonlite Bay Resort is a family ran resort, owned find bride and operated by Andrew and Meagan Saarela. Andrew and Meagan purchased the resort in 2015. Since the purchase, they have significantly updated and maintained all four cabins, the main lodge, and dock system. find bride They take pride in the clean cabins, home cooked meals and the general aesthetics of the resort.
Contact us for your next Canadian adventure!